Grubb Properties sponsors Habitat for Humanity of Orange County, NC 300th home
CHAPEL HILL, N.C. (September 8, 2020) – Grubb Properties will provide $85,000 to sponsor Habitat for Humanity of Orange County, NC's 300th home which will be built in the Northside neighborhood in Chapel Hill, NC. Each year, Grubb Properties recruits clients and industry peers to raise funds and recruit volunteers to build a Habitat home for a local family through the Grubb Giving Project. This year's partnership with Orange Habitat aligns with an exciting year of Grubb Properties development projects in Chapel Hill. The first wall raising is scheduled for September 25th, with limited volunteers and increased safety protocols due to the ongoing COVID-19 pandemic.
"This year's economic struggles are putting even more pressure on Americans facing a severe crisis of affordable housing, and we are proud to once again join with Habitat for Humanity, an organization truly providing a hand up," said Clay Grubb, CEO of Grubb Properties. "We are honored to get involved in the Northside neighborhood and to be a good partner to the Chapel Hill community."
The 300th home will be the 16th Habitat house built in the historic Northside neighborhood, in partnership with the Northside Neighborhood Initiative (NNI). The NNI is a collaboration among neighborhood residents, UNC, Self-Help Credit Union, the Marian Cheek Jackson Center, the Town of Carrboro and the Town of Chapel Hill that pursues a shared vision for the Northside neighborhood: a family-friendly, multi-generational community that balances the needs of long-term residents, homeowners, renters and students. The NNI seeks to build on a long history of creative and courageous leadership by Northside residents and to conserve the unique strengths of the neighborhood.
"We are thrilled to return to vibrant Northside to build the 300th Habitat home in Orange County in partnership with Grubb Properties," said Jennifer Player, Habitat President & CEO. "Stable housing is critical to individual and community health and the need has never been greater. We thank Grubb Properties for their strong commitment to Habitat's vision that everyone in our community has a decent place to live."
Currently in Chapel Hill, Grubb Properties owns Glen Lennox, a 70-acre mixed-use community currently undergoing a revitalization. Link Apartments® Linden, a contemporary 215-unit mid-rise apartment community, currently preleasing for December occupancy, and The Gwendolyn, a 106,000-square-foot commercial building, will soon join the existing Glen Lennox Apartments and Glen Lennox Shopping Center. Grubb Properties also owns 137 E Franklin Street and 136 E Rosemary, which it plans to reposition into an entrepreneurial hub.
Top sponsors of the 2020 Grubb Giving Project include Samet Corporation; Tobin & Company; BB+M Architecture; MBI Installed Services; Clancy & Theys; CBM Atlanta; WDG Architecture, and Southern Energy Management.
Grubb Properties employees receive 48 hours of paid time off annually for volunteerism.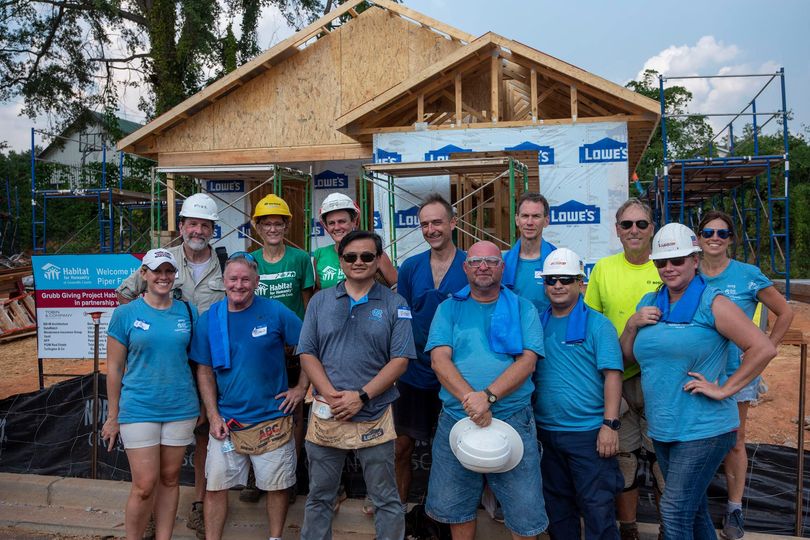 About Habitat for Humanity of Orange County
Habitat for Humanity of Orange County has helped nearly 300 local families achieve and maintain homeownership. Habitat homes are built through the use of volunteer labor and donations of money and materials. Qualified homebuyers complete 275 hours of sweat equity and purchase the home from Habitat through an affordable mortgage priced at less than 30% of family income. For more information, please visit www.orangehabitat.org.
About Grubb Properties
Grubb Properties, founded in 1963, creates exceptional real estate environments and provides premier customer service for our residents and tenants through the repositioning of apartment communities and office buildings and the development of multi-family communities= through our nationally trademarked Link Apartments® brand. Our fully integrated management team identifies strategies that create long-term value for our clients. Grubb Properties' growth is primarily funded through real estate investment funds with long-term horizons. People who care. Places that matter. For more information, visit www.grubbproperties.com.