If you're just tuning in…
PowerHome's collapse has left thousands of homeowners with faulty solar systems, the remainder of their customer base with uncertainty and confusion on where to turn for support, and thousands of employees suddenly without a job.
We are deeply disappointed that PowerHome's failures will continue to leave a bruise on our industry, even if we see fewer of their "Free Solar" ads posted all over our social media feeds. We feel for all the families and workers personally harmed by PowerHome's long line of unsustainable business practices, and the impact this will have on our North Carolina community.
If there is a silver lining to be found in this mess, it's being able to learn from PowerHome's mistakes. As a solar company that has been in the North Carolina market for 20+ years, we've seen many other solar companies come and go. So what makes PowerHome's rise and fall different? And what can NC residents and the solar industry learn from PowerHome's collapse? Let's dive in!
LESSON 01
Beware the Solar Door Knocker
PowerHome's meteoric rise and astronomical crash was fueled by massive advertising campaigns promising "free" solar, coupled with high-pressure sales tactics spread far and wide via a massive door-to-door sales campaign. Since around 2018, the majority of solar installations in NC have actually come from national solar companies like PowerHome that rely on door-knocking as their primary sales tool. We call these companies "National Solar Door Knockers".
Where did solar door knocking in NC come from?
The influx of national companies and the growth of door knockers was triggered by NC's positive solar policies – specifically the Duke Energy Rebate program created as a result of NC House Bill 589. Even with PowerHome solar gone, there are plenty of National Solar Door Knockers operating in our state – so many that we actually have a hard time knowing who is still working in NC and who has left the market.
Why is solar door-knocking bad?
Door knocking in and of itself isn't bad (though it can undoubtedly be annoying at times) and we respect the people who have hustled and beat the pavement to increase solar awareness in our state. We believe that most of the individual folks who practice solar door-knocking are motivated by the same goals as us — to help with our clean energy transition and fight climate change.
Despite their level of good intentions, the structure and incentives used by National Solar Door Knockers inevitably lead to a strong incentive for door-knocking salespeople to alter or omit the truth of their solar system's savings in order to close sales (and feed their family). Let's dive into the complexities of this a little more.
Why do solar companies turn to door-knocking?
Companies whose main focus is fast, aggressive, growth and expansion often use door knocking because it's an easily replicable system with low upfront cost or risk for the company.
In this system, a solar company can enter a new market by signing on a gaggle of commission-only sales reps and having them hit the pavement immediately. This approach bypasses the need for the company to:
Invest in the local community by offering living wages or full-time benefits
Fully understand the nuances of local solar policy
Properly train or support their workers
Commit to servicing their clients long term
Most door knockers themselves are independent 1099 contractors with no base salary, no benefits, and little support. If they aren't selling, they aren't getting paid.
This all-or-nothing incentive structure used by National Solar Door Knockers ultimately leads to a selling formula that bulldozes potential clients with high-pressure, one-time close sales calls, coupled with a lot of confusing or untruthful solar savings details. To make matters worse, because door-knocked homeowners don't have any price reference, these companies often charge significantly higher than the local market price for solar.
Homeowners On the Hook
For homeowners that are convinced (or in the worst cases bullied) into signing, there is very little time for them to catch their breath and rethink their decision. In NC, homeowners have 3 days to cancel an agreement that is signed in their home without any penalty. This is already not a well-known fact, and on top of that, after the 3-day period, the homeowner is often on the hook for 25% or more of the project cost if they want to cancel their contract.
It's no surprise that solar systems sold under these conditions don't live up to customer expectations. And in PowerHome's case, when customers eventually spoke out about their solar systems under-performing compared to the misleading savings claims promised on their doorstep, the company placed the blame on rogue, "no-longer-with-the-company" salespeople and equipment failures, refusing to take any accountability at a company level. Now the NC Attorney General is taking action with an open investigation.
When will the door-knocking stop?
At the end of the day (or at least by the end of the year), the number of solar door knocks will have rebounded from the gap left by PowerHome with other national companies picking up the slack. The strategy and tactics of this system have proven too profitable – at least in the short term – for companies focused on aggressive growth to ignore. Our prediction: A company, or several companies, will fill this hole and come a-knocking on your door soon enough.
LESSON 02
For A Solar Installer, Bigger and Faster Isn't Better. Local, Sustainable Growth Is.
We've always said, local is the way to go — whether that's with us, or one of NC's many other local solar providers. But PowerHome was based in NC, right? When looking at PowerHome's growth-at-any-cost culture, which transformed them into one of the fastest-growing national solar companies in the country, it's clear that its business was anything but sustainable, and it certainly didn't end up being local.
The Ways of a Solar Nomad
As we said earlier, solar door-knocking is a tactic that allows companies to enter new markets quickly, but it also allows them to leave just as speedily. On top of hiring 1099 solar sales reps, many of these National Solar Door Knockers also contract out their solar installation work. Often, these contractors also aren't tenured, full-time team members, or offered any benefits like healthcare and 401K. Some are even paid by the number of panels they install.
This lack of geographic anchor is great for quick, nimble growth and short-term profits — but at what cost and who pays the bill? Ultimately, it's mostly the homeowners they leave behind that get left holding the bag. Whether that's a system that doesn't save as much as it was sold to, technical issues & property damage from a poor install, long wait times before their system is fully operational, or bad customer service when these issues come up.
After all, these National Solar Door Knockers don't put down roots. They are solar nomads! Continually hunting for the hottest, newest markets. "Why deal with the system with the monitoring issues from our old customers in State X? We are diving into the hot new market in State Y, baby!"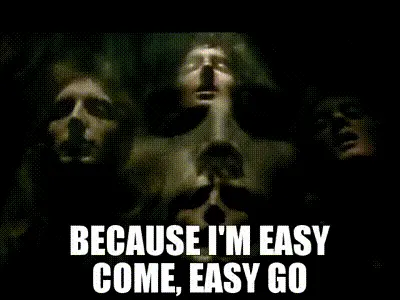 We saw this happen with PowerHome, which before announcing its full closure, pulled out of its home state of NC entirely. We expect this trend of sudden departures to intensify as interest rates continue to rise, which will make zero-down solar financing – the primary tool used by National Solar Door Knockers – less attractive to homeowners.
Ultimately, the transient and unstable nature of fast-growth, National Door Knocking Solar companies mean customers get left behind with rooftop power plants that are meant to function for 30+ years, and no one to turn to when service calls come up.
Local, Sustainable Growth is Possible!
In contrast, all across the US (& Canada), there are other solar companies following a locally rooted and sustainable approach to business. Companies that hire full-time team members, offer healthcare and other benefits (like 401K, PTO, etc.), provide personal and professional development training, and take accountability for their work.
We are born, bred, and firmly tied to North Carolina. For 20+ years we have weathered the ups and downs of the solar coaster in our state. If we have a less-than-stellar customer experience, we have get to address it (one of our core values!), or our future customers will hear about it online and through word-of-mouth. You won't be seeing a rebranded name change here! We can't and won't run away when/if the market for solar gets cloudy in NC. This is our home and we're going to be here to serve it for the long term.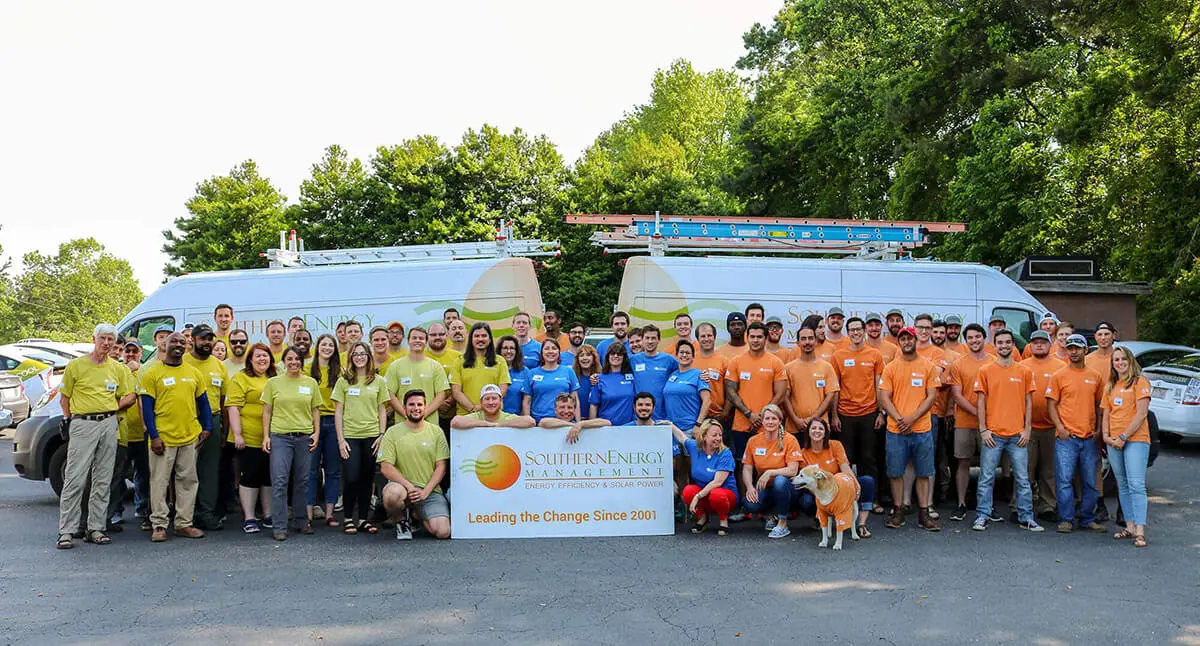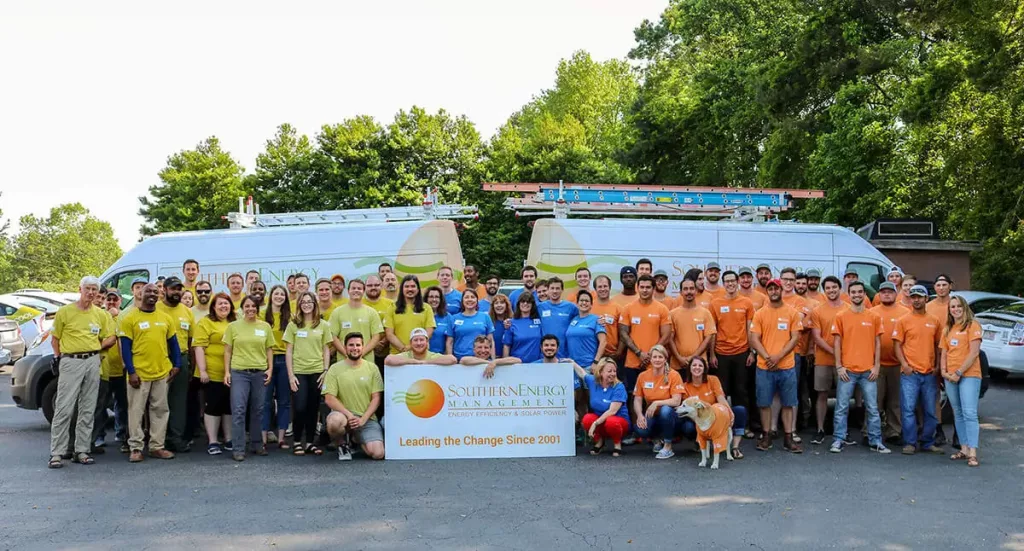 Why Does Sustainable Business Matter?
Except for being in the same industry, we share very little in common with National Solar Door Knocking companies. As a Certified B Corp, our focus is not on growth and profit alone but on a triple bottom line – people and planet, alongside profit. While we don't ignore profit, the money we make is not our sole focus, rather it's what we use to fuel our mission to improve the way people make and use energy. This approach to business is more sustainable for both our business itself and our stakeholders – team members, customers, our community, and our planet. We're proud to stand with companies that are trailblazing new ways to use business as a force for good.
LESSON 03
If It's Too Good to Be True…
Does the death of PowerHome Solar mean the death of 🌞🤑FREE SOLAR POWER IN NC🤑🌞? Is the "special government" program that only some qualify for actually gone? What new ads will you see on Instagram and Facebook? What will the slightly provocative/uncomfortably sexualized person in the ad at the bottom of every news article be selling, if not solar?
Click on the ads below to see some sneaky examples of deceptive solar marketing: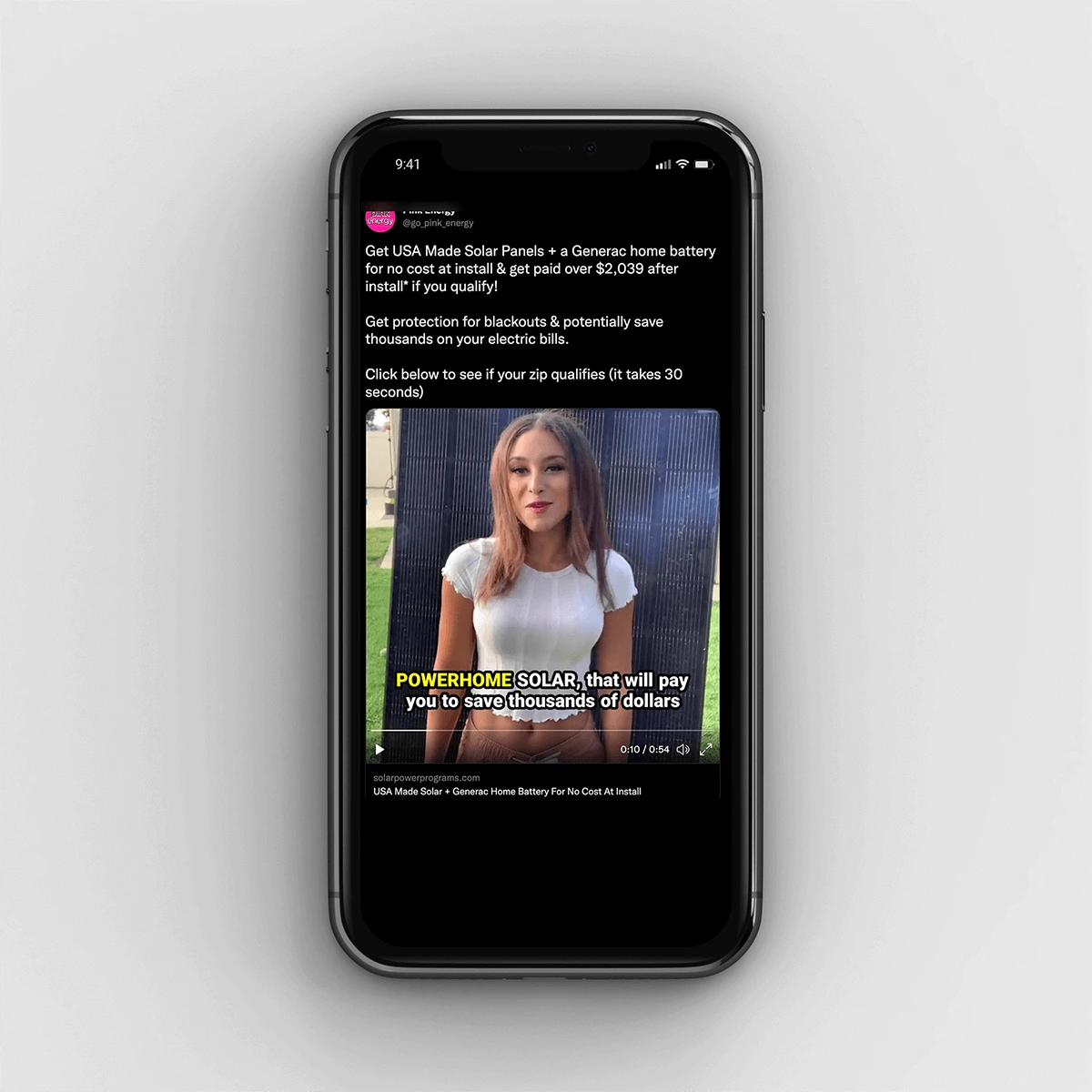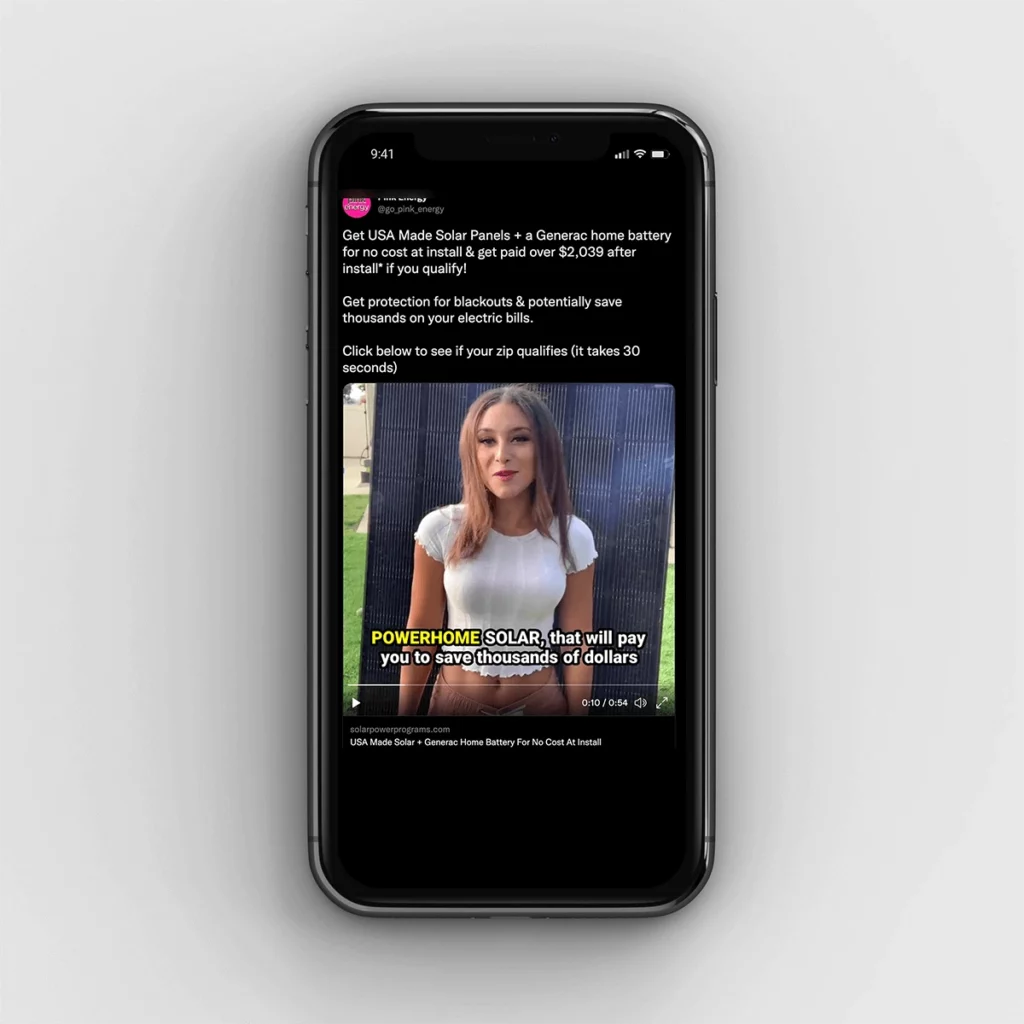 Saying Goodbye to Free Solar?
In truth, of course, solar is not and never has been free. True, we have partnered with awesome organizations like Habitat for Humanity, the Rotary Club, and HBCU CDAC to provide solar at no cost to some homeowners. But those "free" systems took Olympic size swimming pools of collaboration and metric tons of donations/grants to execute successfully.
Free solar ads are as deceptive as they are pervasive. They say zero-down financing loans are "free" and allude to special government programs that don't actually exist like the best tinfoil hat-wearing conspiracy theorist. All to bait potential customers to click into their forms so they can get hard-sold.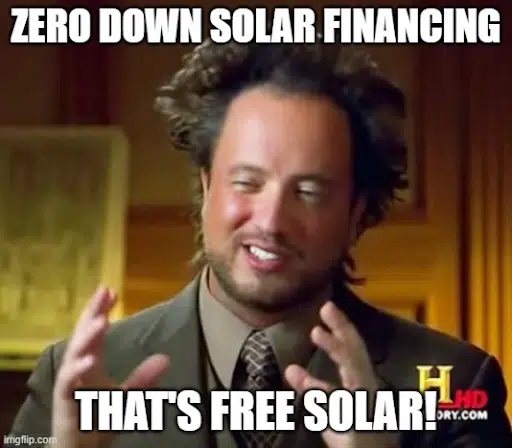 What We Can Learn from Predatory Solar Ads
Ads like these represent another important lesson we can learn: If it sounds too good to be true, it probably is.
Solar is an awesome investment that we can sing the benefits of all day long. It's also a stable, calculated, and quantifiable financial investment (given the right site conditions and proper design) with great environmental benefits. But it is not a get-rich-quick scheme or a magical cure-all. So watch out for too-good-to-be-true claims.
"You'll offset 100% of your energy bill!" – nope, not possible. "Your utility will write you a check at the end of the month" – not going to happen. "This amazing price (which is actually 50% above the local market price) is only available for today" – no it's not. "This system will produce 30% more power than the same size system from local company X" – nope, that's a red flag.
WHAT'S NEXT?
We're Here to Help and Educate
At the end of the day, PowerHome's collapse was an avoidable tragedy that its leadership created by focusing on growth above all else. In their pursuit of growth, they built a culture defined by fuzzy accountability and dishonest claims both from their door-to-door and digital marketing campaigns that were intentionally misleading (aka lies). We are sad and concerned for the employees and customers they are leaving behind, what happened to those affected is not fair or just. But we aren't sad to see the sunset on the predatory practices of PowerHome Solar/Pink Energy.
As the sun rises on a new day for solar in NC, our biggest recommendation to homeowners and others in the industry: be diligent. PowerHome is not the only company to employ some or all of these strategies. Remember what we've learned from these hard-taught lessons, so history is not repeated.
Homeowners: Beware the solar door knocker, their all-or-nothing incentive structure pushes them to sell even if they have to bend the truth or don't have all the information at hand. Big, high-growth National Solar Door Knockers can come with big promises, but often at a cost — whether that's a higher turn-key price, the risk of future instability, poor customer service, or all of the above. And finally, solar is awesome – but it's not free – so don't believe anyone who says it is (*unless you're working with a vetted non-profit who has won some major funding)!
Resources for Your Solar Journey
We can't fix all the problems left behind by PowerHome Solar, but we're here to help where we can. For those curious to learn more about solar, we developed the following free resources.
Moving Forward
The future is still bright for solar in NC, and thanks to the Inflation Reduction Act, it's an excellent time to explore solar. If our industry can learn from the valuable lessons PowerHome Solar left us, we can make the future truly SHINE.