What is solar net metering?
Net metering is a billing arrangement with an electric utility that allows homeowners and businesses with solar to be credited for the excess energy their solar system produces.
Net metering can vary depending on your location and specific electric utility provider. In this blog, we'll be focusing on Duke Energy's net metering structure for North Carolina solar customers. However, the North Carolina Electric Membership Cooperatives have various net metering structures in place as well. With over 20 years of solar installation experience, we are well-versed in these different structures and can assist you in navigating your utility's specific programs. Rest assured, we will be there to guide you every step of the way.
How does Duke Energy's net metering work?
Duke Energy's net metering structure is designed for grid-tied solar systems. The key to net metering is a bi-directional meter. Following the installation of your solar system, Duke Energy will install this special meter, capable of measuring energy production and consumption. Its unique ability to turn both clockwise and counterclockwise enables it to accurately reflect that flow of energy, but you won't see the meter turning like that since they are all digital now!
So during the day, when your solar is producing more than enough energy to cover your electricity needs, you aren't needing to consume energy from the grid. Your bi-directional meter allows you to feed that excess energy into the grid and a net metering structure allows you to receive credits on your electric bill for that energy you send back to the grid.
Those credits can be automatically used during times when you need to consume energy from the grid – like at night when the sun is down. In a sense, net metering is like an energy storage system!
What is an electric meter?
An electric meter, or an energy meter is a device installed by your electric utility that measures the amount of electric energy consumed by a home or building. The meter is most typically read in the unit used for billing – that is a kilowatt-hour (kWh).
How does a bi-directional meter work?
Just like a traditional energy meter, a bi-directional meter can measure the electricity your home is consuming from the grid.
If you have solar energy and your system generates more electricity than you are consuming, the surplus electricity can be fed back into the grid. The bi-directional meter measures the amount of electricity you're feeding back.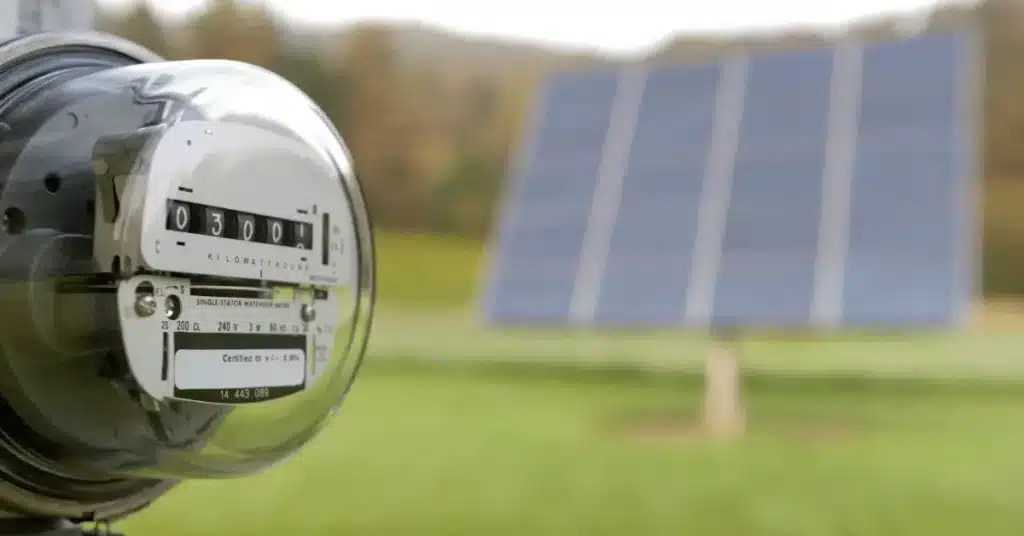 How do the solar net metering credits work?
Duke Energy's current net metering structure offers a one-to-one credit, meaning that the credit you receive for excess solar production matches the cost you would pay to use electricity from Duke Energy. Although you won't receive a check in the mail, your credits will be reflected on your utility bill and will roll over from month to month.
Any accumulated credits will expire on May 31st of each year, resetting to zero. So, it's a "use it or lose it" situation, folks!
Updates to Duke Energy's solar net metering
Duke Energy is implementing a revised solar net metering structure, but current solar customers can rest easy until 2027. For new solar customers, it's crucial to have an approved interconnection request by October 1, 2023, to be included in the existing net metering framework. Check out our other blog post where we delve deeper into these changes.
What is an interconnection request?
An interconnection request is a formal request we submit to your utility provider to establish the connection between your solar system and the grid. This request includes specifications about your solar project, such as capacity, location, and other relevant details. Following approval from the utility, we will receive an interconnection agreement that outlines the terms and conditions of the connection. This is what needs to be done before October 1, 2023 in order to lock in the credit benefits of the current solar net metering structure for Duke Energy.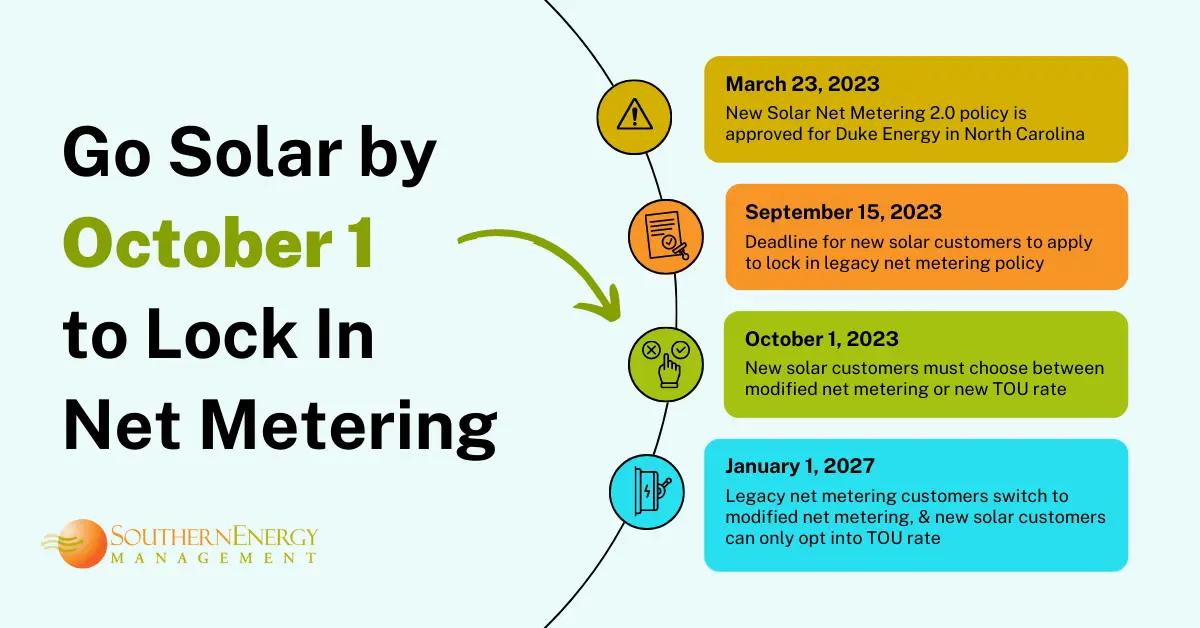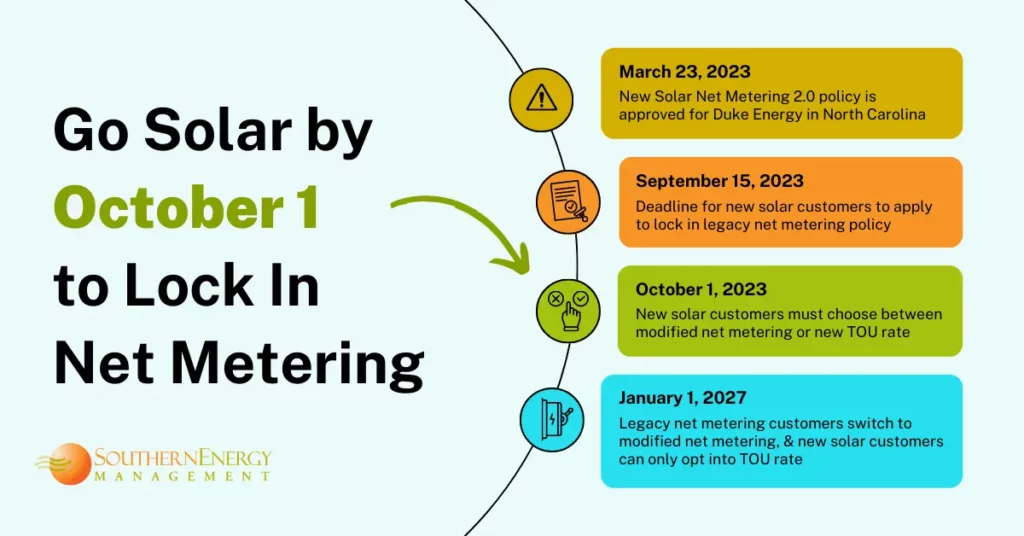 How can you meet the October 1 deadline?
The process to get your solar project started can take several weeks. To meet the October 1st deadline, we recommend getting started by September 1st so we have time to get an approved interconnection request in time.
Below are the next steps to kick-start your solar journey in time:
Discover. Talk to our solar educators to learn about solar power. Fill out a free solar quote request form to get started.
Design. Work with one of our solar designers to customize a system that meets your home and family's energy goals.
Save. We'll handle all the paperwork from there to save your spot with Duke's legacy net metering.
Get in touch with us today! Schedule a call with our solar expert, Dave, to find out if solar is right for your home. After that, Dave will connect you with one of our solar designers who will create a custom system for you and your energy needs.