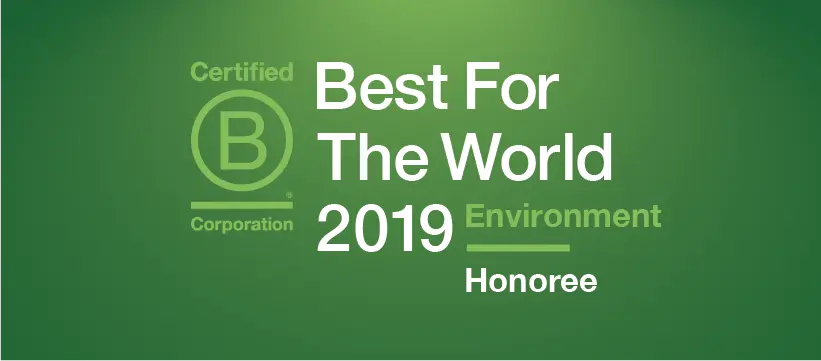 We are so excited to announce that Southern Energy Management (SEM), has been named a 2019 B Corp Best For The World honoree in recognition of our environmental performance and sustainable business practices.
The Best For The World honor is administered by B Lab – the global nonprofit that certifies and supports Certified B Corporations – which are for-profit companies dedicated to using business as a force for good.
"We're incredibly proud of this year's Best For The World honorees," says Anthea Kelsick, Chief Marketing Officer of B Lab.
"These inspiring companies represent the kinds of business models and impact-driven business strategies that are building a new economy—one that is inclusive, regenerative, and delivers value to all stakeholders, not just shareholders. To that end, B Corps like Southern Energy Management are redefining capitalism and showing that it actually can work for everyone."
Certified B Corporations go above and beyond the standards for social and environmental performance, public transparency, and legal accountability, all while maintaining a balance of profit and purpose. B Corps are leading the change for a global culture shift to reshape the way success is viewed in business.
"The SEM team is honored to be recognized three years in a row as a company that is "Best for the World" by B Lab. Our team strives to "Be the Change" we want to see and this award is confirmation we are making a difference. I thank all SEM team members who work hard every day. Your efforts and dedication make this possible and I am honored to be a part of such a strong team." – Bob Kingery, Co-Founder and CEO, Southern Energy Management
This honor is given to companies ranking in the top 10% of all B Corps for their environmental responsibility. Here at SEM, we are proud to have been awarded Best for the World for three straight years, and as a B Corp since 2009, we intend to keep this sustainability train (solar powered of course) rolling on into the future.
With a mission is to improve the way others make and use energy, we are naturally working toward this goal each and every day.  But with "seek solutions" and "never settle" as two of our core values, we are constantly looking for ways we can be even better for the world. So as we reflect on areas we can improve on, a few items on our list include:
Continuing with incremental improvements on our building to make where we work reflect our mission and values
Setting targets for reducing our own energy and water consumption
Supporting our local economy when we can to reduce carbon emissions from transportation
Evaluating the footprint of our supply chain and their social and environmental standards
We'll be nearing our 10th year as a B Corp this fall, and as we wrap up our re-certification, we hope to be able to announce some exciting news. Stay tuned for more!